Art Van Elslander, the son of an immigrant, briefly served in the Army, returned home to Detroit, and started a family and a business. He began in 1959 with one furniture store on the corner of Gratiot Avenue and 10 Mile Road in what was then called East Detroit. By 2015 he owned the biggest and most popular furniture retailer in the Midwest, with almost 100 stores, 3,700 employees, and $725 million in sales. That year, Patti Smith wrote in her memoir about hanging out in Art Van stores for the free coffee and doughnuts. Van Elslander and his wife had 10 children, two of whom worked at the company. He became a community leader and philanthropist. He endowed a foundation focused on children and health. He saved the city's 1990 Thanksgiving Day parade with a last-minute $200,000 check.
His was a classic American story. So is what happened next. Online shopping wasn't a priority at Art Van, and by 2017, Van Elslander knew the company couldn't compete against Wayfair Inc. and Amazon.com Inc. without significant investment. He was 86, ready to step back, and, with 10 heirs, it seemed easier to look for a new owner. Before the year was over, he sold the chain to a private equity firm, Thomas H. Lee Partners LP, for $215 million. "There is still much I want to do," he said in the announcement. "I feel confident knowing the company and its people will be in the very best of hands for continued growth and success." He died the following year.

Continued growth and success failed to materialize. The private equity pitch is that it will help expand business. But when retailers are burdened with new expenses amid industry turmoil, growth is often elusive. Beyond the furniture business, workers frequently report that they can trace deteriorating conditions at their companies to leveraged buyouts. Research shows those businesses fare worse financially than public companies. A 2019 paper from California Polytechnic State University professors examined almost 500 companies taken private from 1980 to 2006. It found about 20% of them filed for bankruptcy—10 times the rate of those that stayed public. Private equity owners and investors, though, can compensate for their losses with one great success. On average, the annual returns for private equity were almost 40% higher than the S&P 500 over the past 20 years, according to Cambridge Associates.
At Art Van, T.H. Lee did nothing unusual, and that may have been the problem. As with many buyouts, T.H. Lee's separated the company from its real estate—which sold for close to $400 million. That meant Art Van had to start paying rent to the properties' buyers. Within a year, Art Van bought two smaller, profitable rivals, Wolf Furniture and Levin Furniture, that employed another 1,900 people. T.H. Lee didn't take dividends from Art Van, as many firms do, but the new rental payments weakened the retailer's finances as competition grew fiercer. While the chain's expenses grew, its same-store revenue declined more than 25% from 2016 to 2020. Art Van filed for bankruptcy on March 8, 2020, only three years after the sale. T.H. Lee planned to close the original Art Van stores and sell back some of the old Wolf and Levin locations. It promised employees continued work and health coverage until it finished shutting down stores in May.
The pandemic ruined those plans. Instead of an orderly process and the preservation of some stores, the entire company closed abruptly. Going-out-of-business sales halted less than two weeks after they began. Also halted: all the pay, severance, and health insurance employees were expecting. They were devastated. One learned her insurance had been canceled while she was hospitalized with Covid-19; another had to undergo emergency surgery a week after losing his job and ended up thousands of dollars in debt. Shirley Smith, a sales manager, lost a month of vacation pay along with expected severance and struggled to cover the cost of her insulin. Joey Tallmadge, a finisher who had worked at the company for about 15 years, couldn't afford to fill his regular prescriptions. "It's unimaginable that this would happen to us," he says.

Yet it's happened to plenty of others, too. The coronavirus pandemic has highlighted with grim precision the inequities of the American workplace, and nowhere are those strains more apparent than in the retail industry. It's the largest private-sector employer, staffed by workers who often have little control over their schedules and don't always receive benefits. In only the past two years, dozens of U.S. retailers have filed for bankruptcy and hundreds of thousands of people have lost their jobs. The workers often receive no warning, though the law requires it. They're the last to get anything, which often means they get nothing. Those failed businesses weren't all owned by private equity firms. But some of the biggest— Toys 'R' Us, Sports Authority, and Gymboree—were.
Here's where this classic American story takes a different turn. The workers fought back. They used the collapse of Art Van to try to force a public accounting of what employees are owed afterward. In letters to T.H. Lee, the company's former employees demanded that the $11.6 billion private equity firm honor its initial promise of pay and health insurance. They aren't alone in their fight. For the past few years, activists have been pushing for workers' rights in bankruptcy proceedings, and politicians have been calling out owners to treat their former employees better. Amid the pandemic, people across the country are acknowledging the vulnerabilities of essential workers. The fight for a $15-an-hour federal minimum wage has gained popular support and some corporate backing, including from Amazon.com, and is central to President Biden's labor agenda. "There's a real thirst in society for more fairness," says Thomas Kochan, a director of the MIT Sloan Institute for Work and Employment Research. That thirst—and that pressure, especially when it comes from public investors—is changing what's happening at some troubled companies, too. Bankruptcy judges, owners, and lenders are beginning to account for employees' losses in their negotiations. It's still possible to ignore workers. But it's not nearly as easy as it used to be.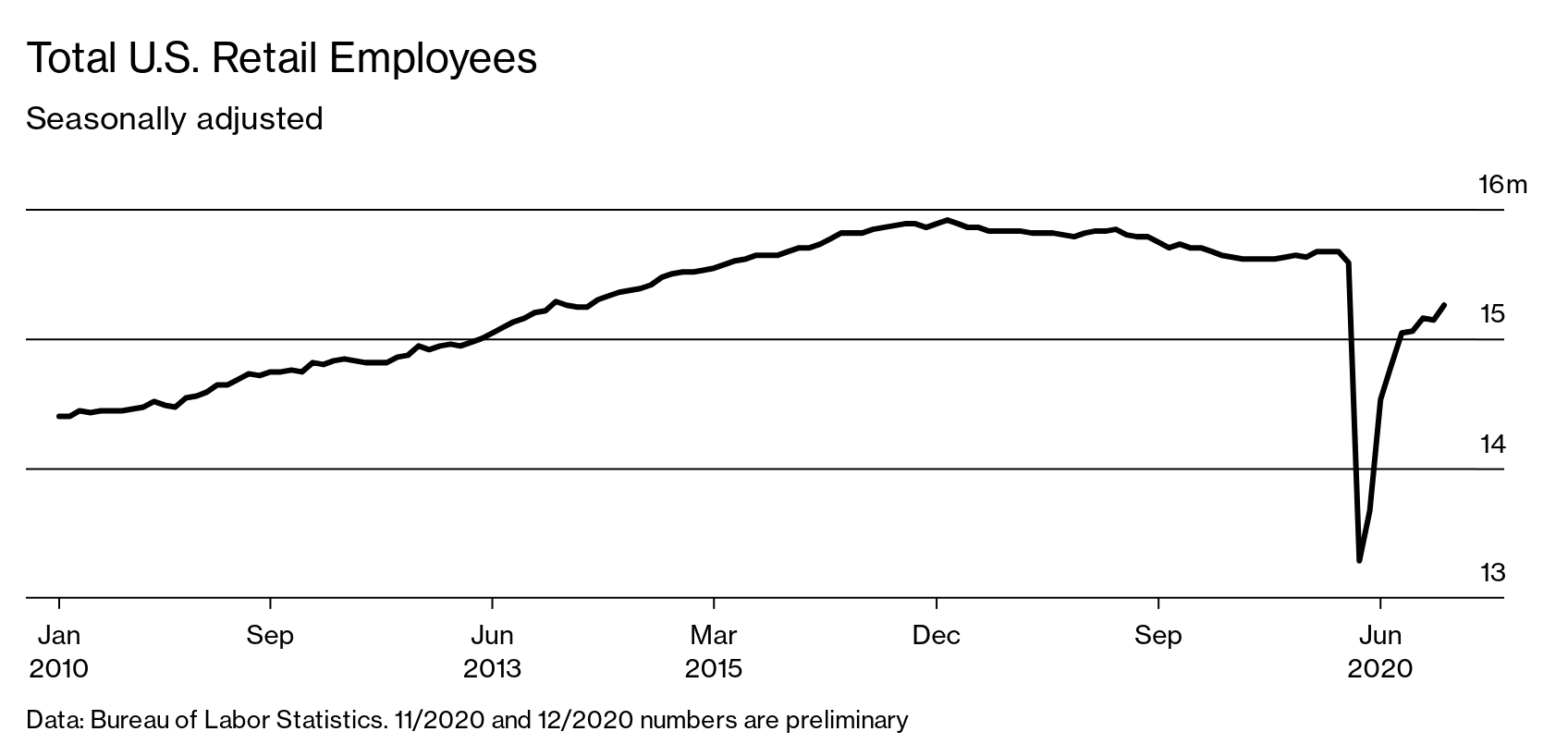 Just a few days after receiving the first complaint from Art Van workers in April, T.H. Lee offered to set up a hardship fund—the partners' first ever. They would put in $1 million, which would come to about $400 per employee. The workers rejected that offer as "woefully inadequate" and pressed for more. T.H. Lee said it would match additional donations of as much as $1 million, but had come up with only another hundred thousand dollars by the end of January. The Art Van workers are continuing to make their case, not with T.H. Lee but with its investors, to receive an amount closer to $1,500, the equivalent of three months' health insurance. The private equity firm declined to comment for this story. In a document reviewed by Bloomberg Businessweek, T.H. Lee told workers: "We care deeply about the impact the liquidation had on the lives of former employees, which is why we proactively initiated the hardship relief fund."
That relief fund is much smaller than they demanded. But that they received one at all has to count as a success, however modest. And this was before a new administration more sympathetic to labor concerns took office. While more bankruptcies and store closings loom and millions more jobs remain at risk, this may be the moment when the balance shifts, just the tiniest bit, toward workers. New rules could make it easier to organize and, if their company fails, to be protected. Workers say they want only what they're owed: fair wages, safe conditions, and the severance, vacation, and other benefits they earned.
When Van Elslander sold Art Van, former executives say, the company was stable, at a growth plateau after years of expansion. T.H. Lee saw an opportunity to acquire other independent furniture sellers and build its digital business. Sounds like a simple plan, but the furniture industry is tough. Salespeople have to know enough to make shoppers comfortable spending thousands of dollars; importing and delivering bigger pieces is expensive, and goods are easily damaged in transit. To those former executives, it didn't seem the new owners had any particular enthusiasm for the business.
The longtime chief executive officer left and was replaced by Ron Boire, who'd been a senior executive at three troubled companies: Sears, Toys 'R' Us, and Barnes & Noble, where he lasted only a year. Other top executives who'd helped run Art Van for years left. In came the consultants and East Coast MBAs, well intended but without relevant experience—"battalions" of them, says Diana Sikes, who headed Art Van's marketing from 2009 to 2018. They were data obsessed, creating new analytics targets that distracted attention from the stores themselves. Sikes says they called a lot more meetings; they missed the forest for the trees. "The focus shifted to pleasing the investors and owners and away from pleasing the customers." Boire, who left in the fall of 2019, declined to comment.
Soon there were fewer people at Art Van to object. The company cut sales staff and ousted seasoned managers in favor of cheaper substitutes with less expertise. A longtime buyer in the bedding department was replaced with someone who'd worked in lingerie, says Smith, the sales manager. Smith had worked at Art Van for 23 years and says, "The last three years were my worst with the company."

Tallmadge wasn't any happier. He'd been rehired in 2017 as a finisher, working on wood, upholstery, and leather, after having been let go more than a decade earlier. His second time around, he noticed the company wasn't as interested in craftsmanship, or even quality control. Items arrived without crucial components, such as sofa recliners missing their power cords. Part of his group's job had been to repair pieces for customers or for resale. Instead, the new managers "kept throwing things out that normally, over the last 60 years, we could have fixed," Tallmadge says. "Quality, perfection were no longer required. They just wanted to rush things through the [repair] shop and get it back out to stock." New sofas arrived sporting plastic frames that Art Van used to avoid. "It's throwaway furniture," Tallmadge says.
Then the company bungled its digital strategy. The website became a standalone business, with separate merchandise, management, even office space. Rather than generating new revenue, this two-tiered system cannibalized the chain's retail sales, Sikes and other former executives say. Meanwhile, the new leasing costs burdened the company, which otherwise had modest debt. Retailers often lease their stores, but owning its real estate had been one of Art Van's competitive advantages. Suddenly it had to pay rent for more than 100 stores.
Signs that Art Van was struggling mounted in the months before it filed for bankruptcy, Smith says. In fall 2019, deliveries of special orders took weeks or months longer than before, and new vendors began to appear as some old ones gave up on getting paid. What workers didn't know was that as cash dwindled in late 2019, T.H. Lee was scrambling to try to sell Art Van, secure new financing, or renegotiate store leases.
In late April, Tallmadge and several other employees held the first in a series of virtual meetings with T.H. Lee. They said the private equity firm needed to do better and could afford to. They demanded that each employee receive $1,500, the equivalent of three months of health coverage. That would have come to about $7 million. The workers say T.H. Lee repeated its offer of $1 million. At a second virtual meeting, the workers again asked for more—if not $7 million, then at least $5 million—and the executives again insisted that wouldn't be possible: T.H. Lee had lost its entire investment in Art Van.
After that, Tallmadge and the others wrote more letters and extended more invitations to talk. They held two more meetings, and then T.H. Lee went silent. That's when the former employees decided, on the advice of labor activist group United for Respect, to appeal to the firm's investors.
The Art Van workers sent a dozen letters and attended three virtual board meetings at pension funds and state investment funds over the next three months. They asked that the organizations halt further investments in T.H. Lee funds until the private equity firm publicly committed to adopt responsible labor practices for all of their portfolio companies, including severance pay for employees who lose their jobs in a bankruptcy. Julie Ford, who had worked at Art Van for 28 years, most recently in human resources, testified at a meeting of the Board of Trustees of the Employees' Retirement System of the State of Hawaii in September. "We can't get our jobs back, but THL shouldn't have left us with nothing," she said. "The loss of our family health-care coverage is particularly difficult during the pandemic and recession."
Later that month, T.H. Lee sent an email to every former employee announcing the establishment of the Art Van Employee Covid-19 Short-Term Disaster Relief Fund. T.H. Lee said it would aim to as much as triple the initial $1 million fund by soliciting another $1 million in donations from its own lenders and matching those amounts. It came up with only another $100,000 in total. The company said that was its final offer. In late January, right before the deadline for workers to sign up for the fund, several of them got online one more time to ask T.H. Lee for an extension. The firm agreed to a new date in late February.
It wasn't all that the workers wanted. It wasn't even all that much. But it was still more than they could have expected only a couple of years ago. For that, they have Toys 'R' Us to thank. Its bankruptcy in 2018 was the biggest in retail, and its decision to leave more than 30,000 workers without expected severance payments proved to be a turning point.

Toys 'R' Us employees, backed by United for Respect, called on the company's former owners, which included the private equity firms Bain & Co. and KKR & Co., to create a relief fund. Then they met with lawmakers in Washington and the company's home state of New Jersey and appealed to pension fund investors. "Did anyone at KKR lose their job over the failure of Toys 'R' Us? Did anyone have their bonuses cut; did anyone have their compensation cut significantly? Because that's one of the consequences of free-market capitalism," Washington State Investment Board member Stephen Miller said to KKR partners at the fund's June 2018 board meeting, according to a recording heard by Businessweek. In Minnesota, state investment board members temporarily held back on other potential investments. Just a few months later, KKR and Bain announced a $20 million hardship fund. "Private equity now must think twice about leaving workers with nothing after a bankruptcy," says Maria Garza Romay, a senior organizer at United for Respect.
Although the fund amounted to less than $700 per worker, it was considered a victory and provided a template for Tallmadge and many more fired retail workers, who have since organized at Shopko Stores Inc., Sears, and other collapsing merchants. Joseph McCartin, a history professor at Georgetown University, compares the present moment to the dawn of the U.S. labor movement in the 19th century, when early unions fought for the creation of laws guaranteeing that workers would be first to receive payouts if a company went bankrupt. "What you are seeing around these kinds of struggles is a kind of contemporary revival of that thought, which is 'What about the workers?' Everybody else was walking away with their share."
Executives at private equity firms and at lenders are also being urged or admonished to keep troubled companies alive, though the pandemic has made that all the more difficult. After J.C. Penney Co. filed for bankruptcy in May, U.S. Bankruptcy Judge David Jones ordered everyone involved to reach a deal quickly to keep the chain alive. "Thousands of jobs and the very essence of the country's infrastructure are at risk," he said. Eventually the two mall owners with the most J.C. Penney locations took over the company, preserving, at least for the moment, more than 600 stores and 70,000 jobs. But it has no permanent CEO yet and $1.5 billion in financing.
Back in 2018, Sears Holding Corp. owner Eddie Lampert, who presided over so much of the department-store chain's decline, made a case that he should be allowed to buy Sears out of bankruptcy to save jobs. U.S. Bankruptcy Judge Robert Drain urged those involved to find a way to accept the company's only chance at survival. They did, and Lampert reacquired it in early 2019. Since then Sears has closed more than 200 of its 425 locations.
"In large situations, the impact of labor, politics, and PR certainly plays a role," says Saul Burian, a managing director for the investment bank Houlihan Lokey Inc.'s financial restructuring group. "The outcome in Sears was all about saving jobs—even at the expense of other creditors—and the J.C. Penney case was animated by a strong desire not to repeat the mistakes of, and the mass layoffs experienced in, Toys 'R' Us," he says.
A couple of years after the Toys 'R' Us bankruptcy, New Jersey became the first state to pass a law guaranteeing severance to workers who lose their job in layoffs of groups larger than 50. California, Colorado, Illinois, New York, and Wisconsin could follow, Kochan says. Last spring, Representatives Bobby Scott (D-Va.), Debbie Dingell (D-Mich.), and Steven Horsford (D-Nev.) introduced a bill to guarantee health coverage for workers who lose their jobs, are furloughed, or have hours cut. Massachusetts Senator Elizabeth Warren introduced the Stop Wall Street Looting Act in July 2019, and it's been with the Senate Finance Committee ever since. The bill would make private equity owners responsible for the debt their portfolio companies take on, ban them from taking out dividend payments for two years after an acquisition, and elevate worker claims for severance and back payments in bankruptcy. "For years, private equity has bought up American retail and sold off the parts to the highest bidders, leaving workers worse off or out of work altogether," Warren said in a statement to Businessweek. "Seeing those workers raise their voices and fight back has given me hope that if we keep fighting, we can make real change to rein in private equity abuse and improve the lives of so many hardworking Americans."

With Democrats in control of Congress and the White House and workers speaking out about the risks they face, the bills could soon find widespread support. For some, though, these battles come at a cost. After months of negotiating for a better deal for Art Van employees, Tallmadge stepped back to care for his health and finances. He suffered a personal tragedy in November, the death of his 27-year-old son, Alex, from leukemia. Before that, "this fight with T.H. Lee consumed my whole life," he says. Tallmadge hasn't had health insurance since March and hasn't been able to undergo a planned surgery for a prosthetic leg after work injuries and diabetes required an amputation. "I no longer have access to my surgeon, my prosthetic technician, or my insurance, and I'm not even finished with my recovery." He's skipping medications to save money. Tallmadge says he wasn't accepted into Medicaid. In October he received the $400 check from T.H. Lee and used it to pay his utility bill. His application for disability is pending. Now he's preparing to file for bankruptcy, a process he began shortly before the pandemic.
When Art Van folded and Smith lost her insurance, her monthly costs for insulin jumped from a $40 copay to $1,500 and then to $480 after she enrolled in Obamacare. She also lost some health-savings account money and an expected retention bonus. For several months she had to pay her bills out of her savings. Then she found a new job—working for another private equity-owned company.
Jeff Love, who founded a company in Dallas called US Assets Inc., had bought about two dozen former Art Van stores and opened a new chain called Loves Furniture & Mattresses. Smith was hired as a store manager in August, and many Art Van colleagues found a job there, too. Smith says her pay was almost as much as in her old job, and the benefits were great. At the grand opening of the new Loves store in Canton, Mich., customers asked if it was affiliated with Art Van. No, the workers said, but lots of us used to be.
Loves filed for bankruptcy in early January. In court papers, its interim CEO said disastrous logistical problems cost it sales after a strong start. It tried to sell off its inventory in hopes of raising enough money to reorganize and keep some stores open. But it couldn't. By the middle of the month, Smith was out of a job again. She could be bitter, but isn't. "It's unfortunate that the effort failed, but a great many new businesses do," she says. "I knew that going in."
Then came one more twist at Art Van: In early February the founder's heirs won bankruptcy court approval to buy the brand for $6 million. They declined to speak about their plans. But after thousands of employees were fired and all its stores closed, Art Van will soon be back in the family's hands.