Community builders
Named after its founder, Albert M. Higley's rich legacy in construction is growing by the day, thanks to the company's support for non-profit organizations throughout Ohio and beyond
Construction management and general contracting firm The Albert M. Higley Co. (AMHigley) was founded in 1925. Headquartered in Cleveland, Ohio, the company has grown into five different offices throughout its 97-year history, retaining its office in Cleveland, while adding those in Michigan, Pennsylvania, and New Jersey, along with a satellite office in Akron, Ohio. Working across all those states, plus West Virginia, AMHigley is truly regional in scope, and has successfully completed over 11,000 projects to date, to a value in excess of $9 billion.
The bulk of AMHigley's work falls within the commercial construction market, including healthcare, higher and private education, corporate offices, hospitality and entertainment, multi-family, and senior living. But it's work for the cultural and non-profit sector of which AMHigley is particularly proud. Accounting for 15-to-20-percent of the company's output across the last three years, it's a business segment centered around the concept of 'mission-drive construction'.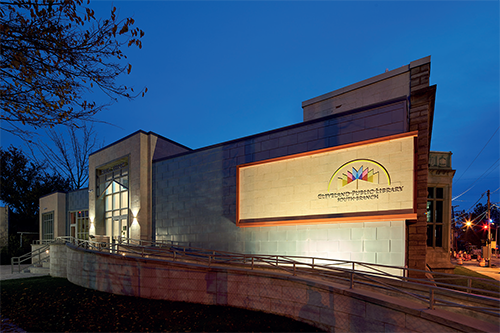 "We strive to understand what non-profits are trying to do as a big picture, and we adapt that as our own mission," explains Emily Lord, Director of Business Development at AMHigley. "Then, our work becomes more than just a construction project. It's about helping them to achieve all sorts of goals, whether it's tackling fundraising challenges, or engaging stakeholders."
It's no coincidence that AMHigley places such a heavy emphasis on non-profit work, or as Emily puts it, "building community." Although the company only formalized its non-profit work as a distinct business unit in 2014, philanthropy has long been a core value for the Higley family, which had three generations represented within the business until just a few years ago. As David Meehan, Project Executive at AMHigley notes, each member of the company's leadership team sits on the boards of various non-profits, including the Red Cross, and MetroHealth Foundation. Further relationships exist with Providence House, Akron's Grace House, and the Achievement Center for Children, based in Cleveland.
With oversight from concept through to completion, David has a particularly unique insight into the process of AMHigley's non-profit work. "Often, organizations will come to us with a vision, and we'll get involved really early with budgeting," he reveals. "In order to effectively support them throughout the process of bringing their project to life, we prepare conceptual design estimates, and provide them with options. They'll then enter a fundraising phase, to raise either all of the money or a portion of it. In the case of the latter, we'll look at turning the project into a multi-phase development, so we can prioritize the work, create a master plan, and construct in stages as more donations are made."
David's comments underline AMHigley's unique expertise within the field of non-profit construction, and a familiarity with the obstacles that such organizations face. It's further evidenced by an impressive portfolio of non-profit projects.
"We've been working with the Rock & Roll Hall of Fame & Museum since 2010, and we're now ready to start a large new addition between that and the adjacent Great Lake Science Center," David says. "The Rock Hall is a good example of a non-profits whose needs have evolved since its opening in 1995. Exhibits that at the time were predominately static, are today interactive, satisfying people's desire for an experience. To meet that desire, we completely renovated about 75 percent of the museum over the last 12 years, and the new addition is set to complete that process.
"We've also recently renovated the Public Library of Youngstown and Mahoning County, as part of a $24 million job," he continues. "As with museums, we're seeing the function of libraries change – they're no longer just places to read a book, and we've installed maker spaces where people can make podcasts and videos, as well as 3D printers. A project on our list is Heights Library, where we're set to conduct a $1.2 million renovation to improve their staff area and provide HVAC system upgrades."
As with all projects, the key to the success of AMHigley's non-profit work is the company's ability to forge long-term relationships with its clients. One such client is the Cleveland Metroparks. "Several years ago, Metroparks took over management of large portions of beach property from the city of Cleveland, at which point we completed the Edgewater Beach House situated along the city's lakefront," recalls Andrew Hudak, Regional Vice President, Ohio at AMHigley. "We've continued that relationship to the Cleveland Metroparks Zoo, where we recently completed the Asian Highlands Exhibit for Snow Leopards and Red Pandas.
"We're currently in the planning phases for a further expansion of their rainforest, which is really one of the signature pieces at the zoo," he adds. "Cleveland Zoo is recognized internationally for its gorilla research, and this new facility expansion is intended to provide a world-class habitat and research environment for gorilla care, with construction likely to begin in a year's time."
After successfully navigating the challenges of the last few years, including a Covid-19 imposed halt on a number of projects, the future is looking bright for AMHigley. In March 2022, the company opened a new office in New Jersey, a move that capitalizes on a growing portfolio within the state.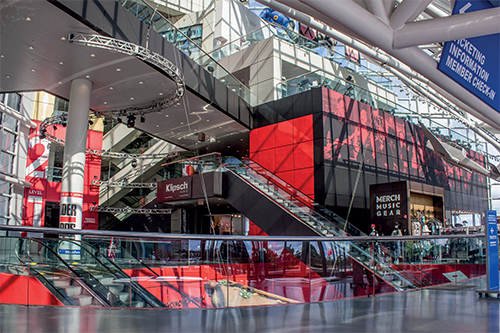 "It's an expansion that's very much happened organically," Emily confirms. "We first went to New Jersey with a previous client who had since moved to a new organization. After completing our first project there, and having established a footing for ourselves, it became clear that it was a place with lots of opportunity, where we already had strong relationships with subcontractors, and where there was close alignment with our key markets.
"We were lucky enough to bring Connor Evans on board as our Regional Vice President, New Jersey," she goes on. "From the area, he's charged with growing our business in that region. It's a similar story to our previous expansions into Pittsburg and Detroit. In each case, we felt that we could take what we were doing in Northeast Ohio, and effectively translate that into those other cities."
Despite spreading its wings, the company remains firm in its commitment to building communities. "We aren't going to Chicago or New York City," Emily points out. "We're expanding into cities where we believe we can contribute and make a difference. One of the first things we did in New Jersey was to talk to different non-profits, and to donate to a non-profit in the community as a signal of our long-term commitment."
AMHigley's commitment to its communities is echoed in the respect with which it treats its employees, whom Andrew describes as the company's "most important asset." He acknowledges that the pandemic has redefined people's attitudes towards their jobs, with many opting for increased flexibility, and a better work-life balance.
"Construction never stops," he admits. "Our work starts early in the morning, and can include long days and weekends. Within that, it's important to recognize that people are giving us a lot of their free time, and we need to be able to repay that. Equally, we're true believers in a diverse, equitable, and inclusive workplace. To that end, our employee-led internal Diversity and Inclusion Group (DIG) makes regular policy recommendations to ensure that we're taking the right steps. On our projects, we set goals – whether owners require them or not – for the proportion of our work that's contracted to minority-owned, and female-owned businesses."
After a record sales year in 2021, AMHigley is facing a significant backlog of work for the months ahead, with expectations of completing construction projects to a value of approximately $300 million. "All our market segments are extremely busy," Andrew notes. "Our healthcare segment has projects with Western Reserve Hospital, MetroHealth, and Southwest General Health Center lined up, as well as another at the Cleveland Clinic's Fairview campus. Likewise, we have a number of education projects in the pipeline, for private and higher-ed institutions. We'll also be announcing more projects through our Design-Build services group, which we launched in 2022."
"Our plan is to continue to grow," Emily concludes. "We aim to put more construction in place every year, increase sales every year, and increase the number of our employees. Today, we have 156 full-time staff – a growth of 70 from where we were around ten years ago. With regional expansion, new states, and new offices, we can expect something similar in another five years' time."
AMHigley
www.amhigley.com
Services: Construction management and general contracting