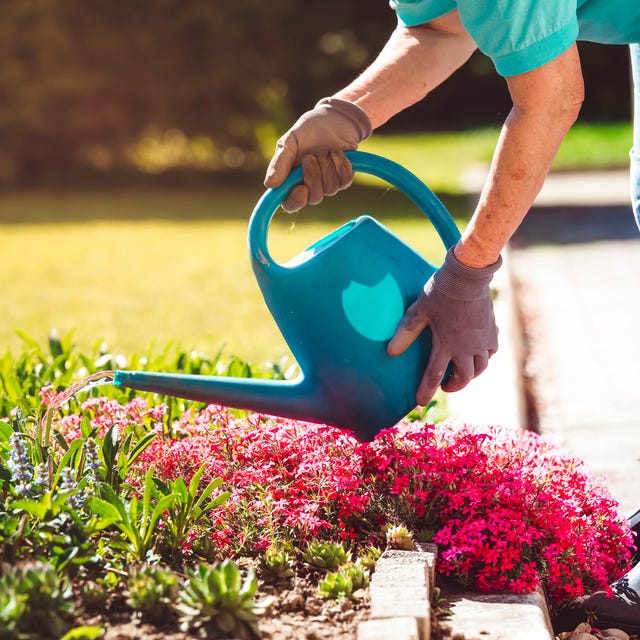 Ziga PlahutarGetty Images
Gardening seems like it should be a leisurely, relaxing activity, but if you've spent any time pulling weeds, composting soil, or harvesting, you know it can be more like a full-body workout. And, that can mean sore muscles the next day—for anyone. But if you're already prone to aches and swelling, like the 1.3 million adults with rheumatoid arthritis (a type of arthritis that causes joint inflammation), even light gardening like watering flowers can be a struggle. The answer isn't to toss out your trowel and find a new hobby, but to strategize on tools and techniques that will ease the strain. Modifying activities to make them more tolerable helps people from getting discouraged and keeps them active according to William S. Raoofi, MD, a board-certified pain management specialist at Mercy Medical Center in Baltimore.
This is key because staying active is "crucial" when you have chronic pain, says Medhat Mikhael, MD, a pain management specialist and medical director of the non-operative program at the Spine Health Center at MemorialCare Orange Coast Medical Center in Fountain Valley, Calif. Particularly with rheumatoid arthritis, regular movement helps strengthen muscles to support and protect joints. It can also boost your mood—never a bad thing—by distracting you from pain, as Dr. Mikhael notes.
And yes, gardening counts! "Staying active does not have to mean running marathons or lifting heavy weights," says Robert D. Jongco, MD, assistant professor in the Department of Anesthesiology and Perioperative Medicine at the Rutgers Robert Wood Johnson Medical School. So mulching, weeding, and planting seedlings helps you flex your green thumb and your actual thumb (and the rest of your joints).
The key is to find the right tools to make the experience easier on you. Pain management experts swear these gardening and home tools can help you get outdoors—and be comfortable doing it—much more often.
Advertisement – Continue Reading Below
1
For Comfortable Kneeling
Garden Kneeler and Seat with Soft Kneeling Pad
amazon.com
Surprisingly, one of the most grueling aspects of gardening is all the kneeling. It can impact your knees or back, Dr. Mikhael says. That's why he recommends using a deep-seat kneeler, which allows you to garden comfortably without bending forward too much. It's also very easy to get up from this one thanks to its handles, and it converts to a seat and has side pockets to hold tools within close range. Game changer!
2
To Prevent Bending
Cedar Wood Elevated Planter
overstock.com
$86.99
Bending over repeatedly can put extra stress on your back and aggravate existing joint pain. If a kneeler or bench doesn't feel like a good fit for you, Dr. Raoofi suggests a raised garden bed. These beds essentially jack your gardening space up into the air and can be used when you're standing, he says. The result: Minimal stress on the joints in your back. You can also sit on a stool while gardening in a raised bed, without needing to bend over. 
3
For Moving Heavy Objects
Mobile Tool Storage Caddy
amazon.com
$99.95
Plants, soil, and gardening tools can get heavy, so Dr. Raoofi advises using a caddy to move plants and tools to reduce the need for heavy lifting or walking longer distances. This caddy has a cushioned handle for easy gripping that also sits high—meaning, there's no need to bend over to pick it up every time you want to move. 
4
To Support Your Wrists
Compression Support Brace
amazon.com
$14.99
If doing anything with your hands and wrists is a near-guarantee for pain, a wrist brace can help ward off future discomfort according to Dr. Raoofi. These "allow a person to use the strength of their forearm and upper arm rather than their hand and wrist to do things such as dig or cultivate," he explains. Simply strap it on snugly before you garden and go to work—the brace will keep your wrist in alignment and lend extra support.
5
To Protect Your Feet
Slip-on Support Sneakers
amazon.com
Supportive footwear is crucial for protecting your joints while you go about your day, whether it's in the garden or elsewhere, Dr. Mikhael says. Vionic was founded by a podiatrist, and the company's shoes are well-known for their quality and support. These sneakers don't have laces—a nice perk for those days when your grip isn't its best.
6
For An Easy Grip
Ergonomic Aluminum Hand Trowel
amazon.com
$9.99
Struggling with pain in your hands can make it difficult to hold anything, gardening tools included. "Choose tools with soft, comfortable handles," says Dr. Jongco. This trowel has an ergonomic design to help lower stress on your hands and wrists. It's also lightweight and easier to lift than heavier counterparts.
7
To Avoid Squeezing
Kaleidoscope Rain Wand
amazon.com
$48.48
Classic hose nozzles require users to squeeze and hold them in order to spray water, something that can be uncomfortable if you have pain in your fingers and hands. Dr. Jongco recommends tools that don't require a lot of force or a strong grip, like this hose wand. It has an extended length, so you don't need to reach up or down to water your plants, and you can turn it on and off with your thumb, eliminating the need to tightly grip your hose. 
8
To Save Your Back
Weeding is notoriously tough on your back, thanks to all that bending over and straightening up. This upright weed remover allows you to fish out stubborn weeds and roots, without putting unnecessary strain on your back. Longer tools like this "prevent you from having to bend down, which may worsen your pain," Dr. Jongco says. 
This content is created and maintained by a third party, and imported onto this page to help users provide their email addresses. You may be able to find more information about this and similar content at piano.io
Advertisement – Continue Reading Below